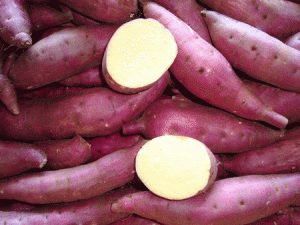 The Japanese Sweet Potato ("Satsumaimo") is packed full of goodness containing the dietary fiber and vitamin C that may be your secret for dieting to lose weight just by eating healthy. Just when you thought eating carbohydrate foods was going to make you fat, there is hope in the Satsuma-Imo diet.
The Japanese sweet potato is a low calorie food (Calories in sweet potato: 264Cal / 1 item) that not only helps satisfy your appetite but contains high nutritional value that you can expect is going to make surface in your diet sooner or later. All you have to do is replace 1 meal a day with a healthy helping of Japanese sweet potatoes to reduce calories without giving up on nutrition.
Even if you are eating 3 meals a day The Japanese Sweet Potato Diet helps you cut back on calories in your diet without giving up on healthy eating and skin care benefits in your food making it reasonable for anyone to succeed in dieting.
In this daily Slism, we will introduce to you how to diet on the Japanese sweet potato to reduce calorie intake getting all the nutrition, dietary fiber and vitamin C, you need to increase your chances to lose weight successfully just by eating right adding to your healthy eating weapons to get slim.