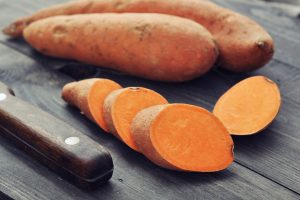 The sweet potato (Ipomoea batatas) is a dicotyledonous plant that belongs to the family Convolvulaceae. Its large, starchy, sweet-tasting, tuberous roots are a root vegetable. The young leaves and shoots are sometimes eaten as greens. The sweet potato is only distantly related to the potato (Solanum tuberosum) and does not belong to the nightshade family, Solanaceae, but both families belong to the same taxonomic order, the Solanales.
The plant is a herbaceous perennial vine, bearing alternate heart-shaped or palmately lobed leaves and medium-sized sympetalous flowers. The edible tuberous root is long and tapered, with a smooth skin whose color ranges between yellow, orange, red, brown, purple, and beige. Its flesh ranges from beige through white, red, pink, violet, yellow, orange, and purple. Sweet potato cultivars with white or pale yellow flesh are less sweet and moist than those with red, pink or orange flesh.
Ipomoea batatas is native to the tropical regions in the Americas. Of the approximately 50 genera and more than 1,000 species of Convolvulaceae, I. batatas is the only crop plant of major importance—some others are used locally (e.g. I. aquatica "kangkong"), but many are poisonous. The genus Ipomoea that contains the sweet potato also includes several garden flowers called morning glories, though that term is not usually extended to Ipomoea batatas. Some cultivars of Ipomoea batatas are grown as ornamental plants under the name tuberous morning glory, used in a horticultural context.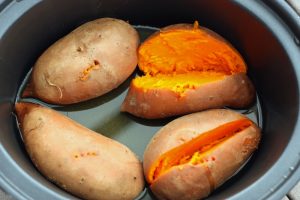 Sweet potatoes are cultivated throughout tropical and warm temperate regions wherever there is sufficient water to support their growth. Due to a major crop failure, sweet potatoes were introduced to Fujian province of China in about 1594 from Luzon. The growing of sweet potatoes was encouraged by the Governor Chin Hsüeh-tseng (Jin Xuezeng). Sweet potatoes were introduced as a food crop in Japan, and by 1735 was planted in Shogun Tokugawa Yoshimune's private garden. It was also introduced to Korea in 1764.
Sweet potatoes became popular very early in the islands of the Pacific Ocean, spreading from Polynesia to Japan and the Philippines. One reason[original research?] is that they were a reliable crop in cases of crop failure of other staple foods because of typhoon flooding. They are featured in many favorite dishes in Japan, Taiwan, the Philippines, and other island nations. Indonesia, Vietnam, India, and some other Asian countries are also large sweet potato growers. Sweet potato, also known as kelang in Tulu, is part of Udupi cuisine in South India. Uganda (the second largest grower after China), Rwanda, and some other African countries also grow a large crop which is an important part of their peoples' diets. The New World, the original home of the sweet potato, grows less than three percent (3%) of the world's supply. Europe has only a very small sweet potato production, mainly in Portugal. In the Caribbean, a cultivar of the sweet potato called the boniato is popular. The flesh of the boniato is cream-colored, unlike the more popular orange hue seen in other cultivars. Boniatos are not as sweet and moist as other sweet potatoes, but many people prefer their fluffier consistency and more delicate flavor.
Sweet potatoes have been an important part of the diet in the United States for most of its history, especially in the Southeast. From the middle of the 20th century, however, they have become less popular. The average per capita consumption of sweet potatoes in the United States is only about 1.5–2 kg (3.3–4.4 lb) per year, down from 13 kg (29 lb) in 1920. Southerner Kent Wrench writes: "The Sweet Potato became associated with hard times in the minds of our ancestors and when they became affluent enough to change their menu, the potato was served less often."