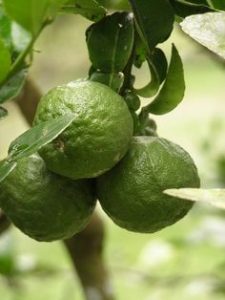 The kaffir lime (Citrus hystrix), sometimes referred to in English as the makrut lime or Mauritius papeda, is a citrus fruit native to tropical Asia.
including India, Nepal, Bangladesh, Thailand, Indonesia, Malaysia, and the Philippines. Its fruit and leaves are used in Southeast Asian cuisine and its essential oil is used in perfumery. Its rind and crushed leaves emit an intense citrus fragrance.The leaves are the most frequently used part of the plant, fresh, dried, or frozen. The leaves are widely used in Thai and Lao cuisine (for dishes such as tom yum) and Cambodian cuisine (for the base paste "krueng"). The leaves are used in Vietnamese cuisine to add fragrance to chicken dishes and to decrease the pungent odor when steaming snails. The leaves are used in Indonesian cuisine (especially Balinese cuisine and Javanese cuisine) for foods such as soto ayam and are used along with Indonesian bay leaf for chicken and fish. They are also found in Malaysian and Burmese cuisines It is used widely in South Indian cuisine.
The rind (peel) is commonly used in Lao and Thai curry paste, adding an aromatic, astringent flavor. The zest of the fruit, referred to as combava[citation needed], is used in creole cuisine to impart flavor in infused rums and rougails in Martinique, Réunion, and Madagascar. In Cambodia, the entire fruit is crystallized/candied for eating.